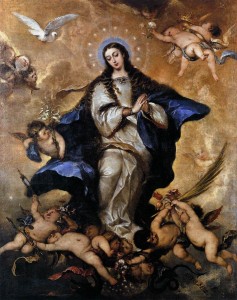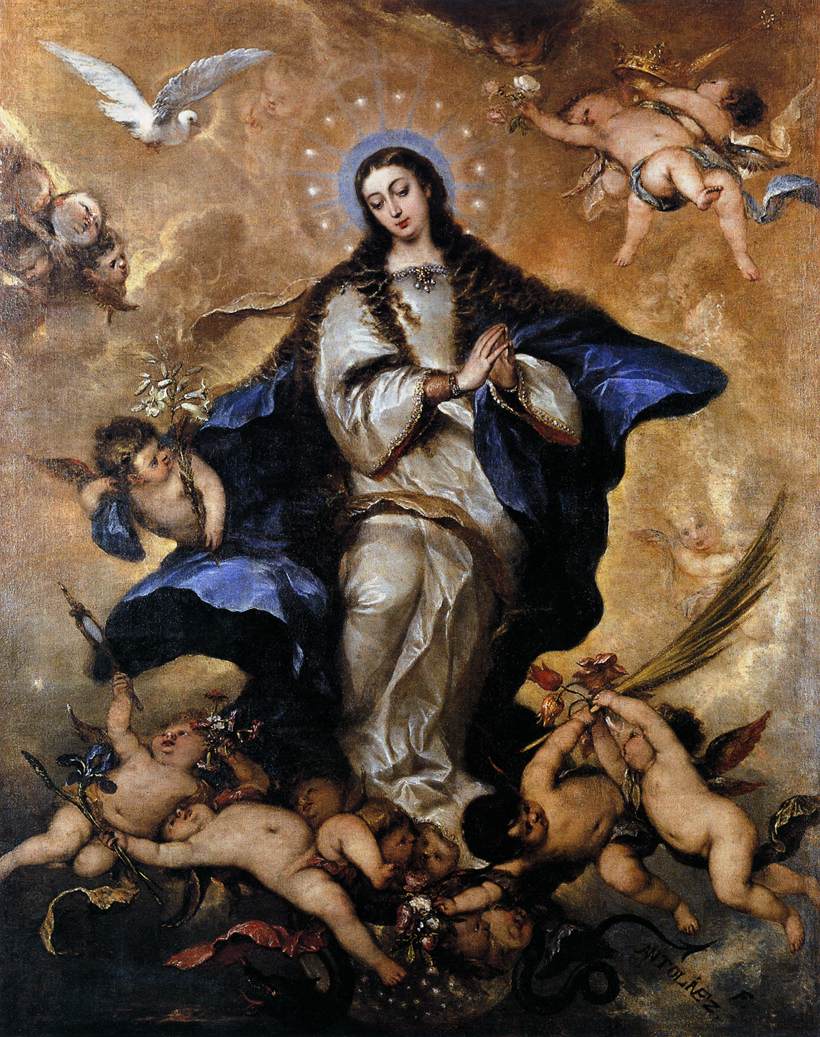 We in the USA honor the Virgin Mother with the Solemnity of the Immaculate Conception. From an early church theologian, Origen, writes:
"The angel greeted Mary with a new address, which I could not find anywhere else in Scripture. I ought to explain this expression briefly. The angel says, 'Hail, full of grace!' The Greek word is κεχαριτωμένη. I do not remember having read this word elsewhere in Scripture. An expression of this kind, 'Hail, full of grace!' is not addressed to a male. This greeting was reserved for Mary alone."
From a homily given in England today:
'The Immaculate Conception'. It's a lovely rolling phrase, isn't it (we classicists might analyse its rhythm as a trochaic dimeter). And it's a phrase, too, that can scare people silly. Is it sometimes the physicality – again, of conception – that disturbs them; conception, a process that occurs a little way south of the tummy button? Not the sort of thing the fastidious want to have dragged in front of their noses. C S Lewis points out that the devils too are fastidious in their horror at the flesh: Screwtape refers to a human as 'this animal, this thing begotten in a bed'. Or perhaps people are scared of the word 'Immaculate'; perhaps it suggests foreign religion – little old Irish women clutching their rosaries or Spanish ladies in black making their five successive First Saturday communions in honour of the Immaculate Heart (a devotion which Cardinal Ratzinger with his gentle irony once called 'surprising for people from the Anglo-Saxon and German cultural worlds'). But 'immaculate' is a completely biblical concept in its Hebrew and Greek equivalents: it means spotless; and only what is without blemish is truly for God (for example, a spotless sacrificial lamb). Because: Mary is to be wholly for God, is to give God his body, to give God his endowment of genes, to give God the food of her breast: so Mary by God's gift is to be the Immaculate, the one without blemish, the one in whom the Divine likeness has never been marred.
It is because Mary alone in the roots of her being is unmarked by sin that Mary alone is truly and wholly free. In our hearts, too, we should make her free and 'fear not'; she is never to be locked up in the tourist industry as a statue of doubtful taste carried in processions by foreign peasants for the English to photograph from within their coaches; Mary is not to be detained at the pleasure of the Heritage business in a Merry England; she is not to be 'the Madonna' of the Art Historians imprisoned in glossy coffee­ table books.
If Mary is the Mother of God Incarnate, she is our Mother too, because we are in Christ, limbs of his body by our baptismal incorporation. Mary comes to us this day, and what would a true mother bring to hungry children except food; food for her children in exsilio; food packed for our journey. Mary comes to this place and to this moment of time; Mary comes, bright with all the beauties known by men and angels; Mary comes to set upon our lips the blessed fruit of her womb Jesus.
Fr John Hunwicke
Ordinariate of Our Lady of Walsingham