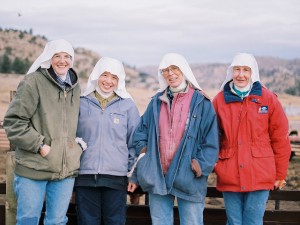 Benedictines historically live close to the land. Since the 6th century the Benedictines have also been pioneers in every field of study known to humanity. Here is a NPR story on the Benedictine nuns of the Abbey St Walburga (Virginia Dale, CO).
http://www.npr.org/blogs/thesalt/2014/12/22/371485558/nuns-on-the-ranch-give-a-heavenly-twist-to-beef
 The Benedictines of St Walburga Abbey is a faithful group of women of a variety ages, experience, education and talent. I am happy to see that they are working the land in a meaningful way.