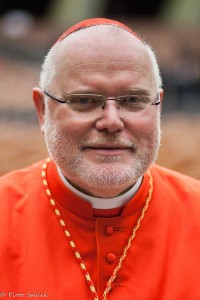 We are quickly coming up to the Roman synod of bishops on the challenges of marriage and family life. It doesn't seem to be getting too much concern and the realities of these two important poles of human existence. Many Catholics have no faith that synods are worthwhile as they propose nothing useful in living the Good News.  Of consequence to most Catholics is that bishops have no real impact on the faith's ability to move the heart. I am unsure if this is totally accurate but it is a sentiment.
One such author who is interested in the synod, and cares very deeply about the truth and beauty of the faith, however, is Beverly De Soto, the editor of the online magazine Regina. DeSoto is a fitting person to raise concerns and to orient our attention which becomes obvious in what she writes in her blog piece, "What The Germans Wants and Why."
Why the picture of Cardinal Reinhard Marx, archbishop of Münich and Freising? Because he is the very public face of Catholicism in Germany at present and he is on the Pope's C9 advisory group.