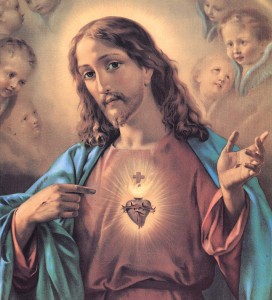 God's heart, as the expression of his will, is spoken of twenty-six times in the Old Testament. Before God's heart men and women stand judged. […]
Yet another passage of the Old Testament speaks of God's heart with absolute clarity: it is in the eleventh chapter of the book of the Prophet Hosea, whose opening lines portray the Lord's love for Israel at the dawn of its history: "When Israel was a child, I loved him, and out of Egypt I called my son" (Hos 11:1). Israel, however, responds to God's constant offer of love with indifference and even outright ingratitude. "The more I called them", the Lord is forced to admit, "the more they went from me" (v. 2). Even so, he never abandons Israel to the power of its enemies, because "my heart"—the the Creator of the universe observes—"recoils within me, my compassion grows warm and tender" (v. 8).
The heart of God burns with compassion! On today's solemnity of the Sacred Heart of Jesus the Church presents us this mystery for our contemplation: the mystery of the heart of a God who feels compassion and who bestows all his love upon humanity. A mysterious love, which in the texts of the New Testament is revealed to us as God's boundless and passionate love for mankind. God does not lose heart in the face of ingratitude or rejection by the people he has chosen; rather, with infinite mercy he sends his only-begotten Son into the world to take upon himself the fate of a shattered love, so that by defeating the power of evil and death he could restore to human beings enslaved by sin their dignity as sons and daughters. But this took place at great cost—the only-begotten Son of the Father was sacrificed on the Cross: "Having loved his own who were in the world, he loved them to the end" (cf. Jn 13:1). The symbol of this love which transcends death is his side, pierced by a spear. The Apostle John, an eyewitness, tells us: "one of the soldiers pierced his side with a spear, and at once there came out blood and water" (cf. Jn 19:34). […]
To be "in" Jesus Christ is already to be seated in heaven. The very core of Christianity is expressed in the heart of Jesus; in Christ the revolutionary "newness" of the Gospel is completely revealed and given to us: the Love that saves us and even now makes us live in the eternity of God.
Benedict XVI
Solemnity of the Most Sacred Heart of Jesus
19 June 2009