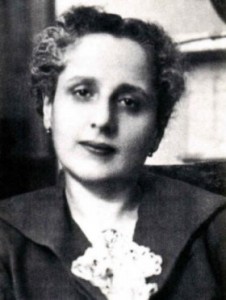 Today, in Rome, the Congregation for Saints proposed to the Holy Father that after study and prayer, the Servant of God Itala Mela, laywoman and Benedictine Oblate of the Abbey of Saint Paul Outside-the-Walls (Rome), did indeed, live a life of heroic virtue. Now her cause will study possible miracles attributed to her intercession before the Throne of Grace.
Itala Mela is known as the Mystic of the Holy Trinity. Mela was born to Pasquino and Luigia Bianchini on 24 August 1904 and died 29 April 1957.
Mela was well acquainted with the likes of Giovanni Battista Montini, the future Pope Paul VI, Blessed Idelfonse Cardinal Schuster, OSB, and Fathers Agostino Gemelli and Divo Barsotti. Schuster was the abbot of St Paul's before his nomination as the archbishop of Milan.
On 4 January 1933, Itala Mela professed the promises of a Benedictine Oblate of Saint Paul Outside the Walls and on 9 June she made a fourth vow of consecration to the Holy Trinity which she considered as the center of her life and mission in the Church. How providential that this recognition of Mela happens on the weekend in 2014 that we liturgically recall the dogma of the Holy Trinity!
Itala Mela's cause for sainthood was opened on 21 November 1976 and it has taken until now to advance –in God's time– as she referred to as the Venerable Servant of God Itala Mela.
Much of Mela's life is known in Italian, but you may want to look at this website nonetheless.