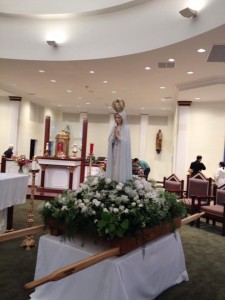 On May 13, 1917 three Portuguese children –Lucia dos Santos, Francisco and Jacinta Marto – playing at the Cova da Iria in the village of Fatima, saw a beautiful Lady which they described as being dressed in the 'shining white of the Sun … indescribably beautiful face'. Her folded hands a rosary. The Lady told the children to return to that place every 13 months, promising to take them to heaven. She also asked them to pray the rosary for the intention of reparation of offenses against God and for the conversion of sinners. The children followed the advice.
In the third appearance, on July 13, the Lady asked the children to pray the Rosary for an end to the war and gave them a secret that consisted of three parts: the first was the vision of hell, the second referred to the devotion to the Immaculate Heart of Mary, the third woman's vision was flooded with Sun that counter-acts the forces of evil and the persecution of the Church by Governments atheists. "The good will be martyred," said the Lady, "the Holy Father will have much to suffer and various Nations will be annihilated. Finally, my Immaculate Heart will triumph. The Holy Father will consecrate Russia to me, which will be converted, and the world will be granted a period of peace."
On October 13, about 60,000 people in attendance saw the Sun spinning, known as "the Miracle of the Dancing Sun," was seen as fast as a gigantic wheel of fire and dash zig-zagged across the sky. The whole thing lasted about ten minutes, then the globe returned to the point from which it was dropped.
Mary renewed her call to penance and prayer, commending devotion and consecration of persons to her immaculate heart.
It must be noted that on this date in 1981 the Turkish citizen Ali Agca shot Pope John Paul II. The bullet was deflected and the Pope later traveled to Fatima embedding that bullet in the Crown of the Virgin.
Francisco and Jacinta Marto, died in 1919 and 1920, were beatified on 13 May 2000. Lucia became a Carmelite nun and died on February 13, 2005 at 97 years old.
Tonight, at St George Church in Guilford, CT about 150 gathered for Adoration and Benediction of the Blessed Sacrament, the rosary and a procession with the Fatima statue on the town green (the pic above). The unique thing about this procession at St George's is that it's likely the only parish in the Archdiocese of Hartford, indeed in New England, located on a town green (in a former very Protestant area).