This morning we have three new saints! His Holiness canonized three new patrons, to pray for us in heaven. Actually, God makes saints, the Church discerns who the saints are. All three have strong connections to the Americas: Canada and Brazil.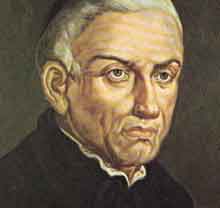 Saint José de Anchieta is the newest Jesuit saint. The saint died in 1597. De Anchieta is known as the "Apostle of Brazil" and "Father of Brazilian Literature," a person in Brazil's history. Writing to the Society of Jesus, Father Adolfo Nicolás, superior general, said:
The Society must not refuse this invitation offered to present anew this versatile figure who is inspiring and extremely relevant to this day. What does the Lord want to say to us in giving us the gift, in less than a year, of Church recognition of the evangelical value of the lives of our two companions, Peter Faber and José de Anchieta? These are two men who accomplished missions so different and yet so similar in the Jesuit spirit that should animate our mission. Both, with the passion of their lives, invite us to discover that the "restoration," more than being a mere historical event for us, ought to manifest the ever present "mode of being" of an apostolic body in continuous re-creation.
José de Anchieta, "of medium height, lean, with a strong and decisive spirit, bronzed features, bluish eyes, ample forehead, large nose, thin beard, and with a happy and friendly face," spent 44 years of his life traversing a good part of the geography of Brazil and carrying the good news of the Gospel to the native peoples.
Read Father Adolfo Nicolás' whole letter here.
Saint Marie de l'Incarnation (Marie of the Incarnation) is an amazing Ursuline sister who founded the first Ursuline convent in Canada, founded Canada's first school and is called "Mother of Canada." The biography of Saint Marie is written by the Ursulines.
Saint François de Laval, was the first bishop of Québec. You can read about him at Center Francois de Laval.
In literature Saints Marie of the Incarnation and François de Laval are found in Willa Cather's 1931 novel of early Quebec, Shadows on the Rock.
May our three new heavenly companions to show us by their example how to love God in a particular way.