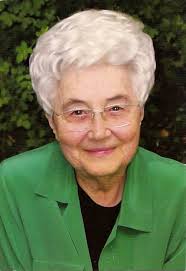 Prayers for the repose of the soul of Chiara Lubich who died on this date in 2008. Chiara was the founder of the
Focolare Movement
.
Chiara Lubich's the formal request to open a cause for sainthood was made on 7 December 2013. When the announcement was made Maria Voce said, "This act invites us all to a life of greater holiness, lived day by day to contribute towards collective sanctity, that sanctity of the people so dear to Chiara's heart."
Maria Voce requested the opening of the cause of canonization of Chiara of Bishop Raffaello Martinelli, Bishop of Frascati. December 7th was also a significant date for the Focolare members as it was the  70th anniversary since the beginning of the Movement.
The Church's tradition is to present to its faithful role models, persons who have distinguished themselves by a particular witness of faith and love for God. The current period of waiting following the death of a person is five years. Thereafter, if the opening is approved, a canonical process to verify the facts of a holy life, of heroic virtues,  and other signs needs to be studied.
12 members of the Focolare Movement are being studied for sainthood.