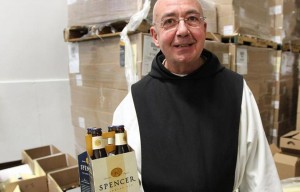 Trappist Brother Isaac shows some bottles of Spencer Trappist Ale. This is the latest venture of the Cistercian monks in Spencer, MA. They're hoping to sell 4000 barrels (1.3 million bottles) of their beer.
The Boston Globe has a story here. Pray that the State of CT will allow the beer to be sold in CT soon.
All Cistercian saints and blesseds, pray for the monks, and for us.