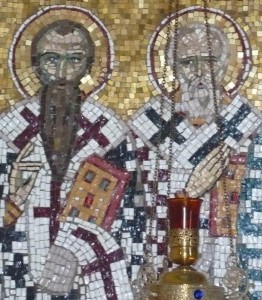 The Church prays today,
O God, who were pleased to give light to your Church by the example and teaching of the bishops Saints Basil and Gregory: Grant, we pray, that in humility, we may learn your truth and practice it faithfully in charity.
Though it is the feast of two saints, I want to concentrate on Basil and his emphasis on the Holy Spirit. We began the new year with the praying of the Veni Creator Spiritus to set new year with a renewed relationship with Triune-God.
One of the great patristic source of our Christian pneumatology comes from Saint Basil the Great. Catholics are frequently, and with good reason, accused of forgetting the work of the Holy Spirit. Some will even call the Spirit the forgotten God. Systematic theologians of the West make the claim that theological reflection, especially in the 20th century, have neglected the indwelling of the Holy Spirit; and I would also claim that these same theologians have neglected the activity of the Holy Spirit in the sacred Liturgy. Too often in theological reflection, catechesis, and preaching the Holy Spirit is forgotten sacramentally and the Mass. No Holy Spirit, no Trinity. The good news is that Dominican Cardinal Yves Congar helped to restore a working knowledge of the Holy Spirit with the publication of his 3 volume work, I Believe in the Holy Spirit.
One of the key parts of Basil's work, On the Holy Spirit, is his use of the baptismal formulation –the lex orandi, lex credendi– found in Saint Matthew's Gospel to show that the Holy Spirit is integrally connected with the Father and Son as God;  this formulation is now the tradition of the Church.
"What makes us Christians? "Our faith," everyone would answer. How are we saved? Obviously through the regenerating grace of baptism. How else could we be? We are confirmed in our understanding that salvation comes through the Father, Son, and Holy Spirit . . . If we now reject what we accepted at baptism, we will be found further away from our salvation than when we first believed," (On the Holy Spirit, 10).
His teaching is clear: we are saved by the regenerating waters of baptism: washed of sin, and anointed as priest, prophet and king, we become by adoption what Christ is by nature. The door of salvation is opened in this sacrament of illumination, regeneration, and adoption. The baptismal grace, therefore, is from the Father, Son, and Holy Spirit and it is salvific because it makes the beatific vision possible. We make the salvation known today through baptizing of people "in the name of the Father, and of the Son, and of the Holy Spirit" (Mt. 28:19).