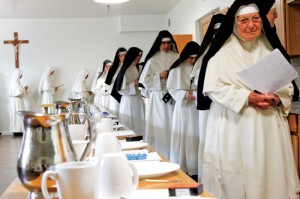 This past summer –so this is old news for some– the Sisters of the Mountain, the Norbertine Canonesses, established the first monastery for women in the USA. The Norbertine vocation is different from being a Dominican, Augustinian or Benedictine.
The new monastery, The Bethlehem Priory of St Joseph, is located in Tehachapi, California. A life of seclusion, separated from the outside world, opens the door to do the Lord's work of prayer and sacrifice for the salvation of souls.
A seven minute video by a local news station did a very nice profile of the Canonesses giving a glimpse of the Norbertine vocation and the making of a monastery. How often do you hear of this type of news? I recommend it…
A print article on the monastery blessing is covered here.
Why is this important? It's not. At least it is not important on the secular level. But, on the supernatural level, the new monastery's creation and blessing is sign of God's Providence and humanity's response. On this level, a monastery is a place of healing, spiritual and intellectual growth, it is a place to do spiritual battle. The monastic presence is a sign for all Christians of the building of the Kingdom of God on earth so that we may enjoy God in heaven.
May God grant success to the work of their hands. May the Holy Theotokos, St Joseph and St Norbert protect.