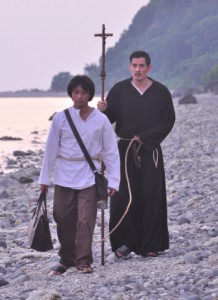 I hold that one way of knowing the contours of the bible, the New Testament in particular, is knowing the lives of the saints. Hence, I advocate taking in the lives of the saints from across history and cultures. A little known saint in the USA is Saint Pedro Calungsod, the second Filipino saint in the Church martyred in 1672. Saint Pedro was a layman, catechist, and  was canonized by Pope Benedict XVI on 21 October 21, 2012. Therefore, look to the recent movie on St. Pedro Calungsod, "Pedro Calungsod, Batang Martir",
The movie was entered into the 2013 Metro Manila Film Festival.
"We hope to bring St. Pedro Calungsod closer to the students through new evangelization such as this film. With all our collaborative efforts, we can inspire more children and young students to be heroes and saints (in the future). We hope that Pedro Calungsod will be an inspiration for the Filipino people with the message that we can reach sainthood through our everyday lives especially as we can all relate to him for he was a youth, an overseas Filipino worker, a catechist, a missionary and a faithful friend," Br. Narciso Erguiza, FSC, said.