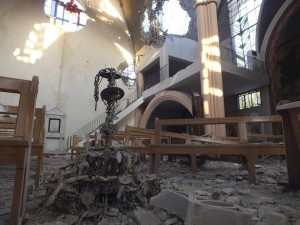 According to the Melkite Patriarch Gregory the Great 88 Christian churches have been destroyed or damaged in some way as a result of the civil war in Syria. The majority of the damage is within the Melkite community, but numbers do not matter as this civil war affects all Christians. War is a failure for entire world.
Words of empathy are fine but deeds of love really matter.
This is not merely a local problem but a matter of concern with the rise of radical Islamic groups working to re-establish the ancient caliphate.
As of December 21 this the breakdown:
Armenian Catholic 3
Armenian Orthodox 9
Evangelical 1
Greek Orthodox 16
Melkite 37
Maronite 2
Latin 10
Syriac Catholic 3
Syriac Orthodox 7
We pray that the newborn Prince of Peace makes his Presence felt.