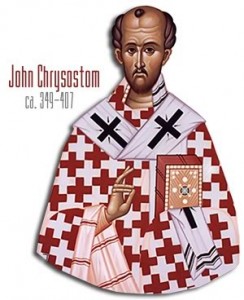 On the Byzantine liturgical calendar, today is the feast of John, patriarch of Constantinople, called "Chrysostom" (which is Greek for  "the golden-tongued," in reference to his amazing gift for preaching the Word of God).
The Latin Church observes the liturgical memorial of Saint John Chrysostom on 14 September. He is revered as our holy father and for that reason he bears mention again. One of the Divine Liturgies of the Byzantine Church, the one used most days, is ascribed to him.
It is hard to overstate the importance of Saint John Chrysostom for Christians due to the intensity of his person, the force of his preaching and the reasonableness of his teaching.
The "Cherubic Hymn," a chant, is taken his Divine Liturgy, is sung at the time of the Great Entrance. (For Latin Catholics, the Cherubic Hymn is a hymn sung at the presentation of the gifts, a text which is fixed for all but a few days of the liturgical year).
The Cherubic hymn ought to form part of our daily prayer.
We who mystically represent the Cherubim,
and who sing to the Life-Giving Trinity the thrice-holy hymn,
let us now lay aside all earthly cares
that we may receive the King of all,
escorted invisibly by the angelic orders. Alleluia