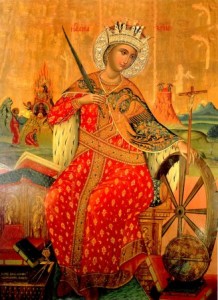 Saint Catherine of Alexandria whom we honor today in our liturgical memory. For centuries the church had listed Catherine on the ordo but with the liturgical renewal and revision following the Second Vatican Council she was removed from calendar; in 2002, John Paul returned her to the ordo. Her importance for us is what tradition says of her, namely, that she climbed Mount Sinai, the place where Torah was given, and an image which prefigures calvary when Jesus died. A journey each disciple of the Lord is called to make. Our more contemporary theological view of Catherine is that she is the bridge for the work of unity among Christians. Saint Catherine is a saint honored by the Eastern Churches and her memory is highly esteemed in the West. Hence, we, the Churches of East and West, are united in Jesus Christ through the person of Saint Catherine.
The reliability of the historical sources on Catherine is questionable, but liturgical legend is not to be dismissed. How the Churches came to know, love and reverence the holy disciples of the Lord is to be honored and studied. Historical accounts are not always that important: the witness, the experience, the faithfulness is what moves our heart. What is meant by legend does not mean fiction and nor is it an idea from a vigorous imagination. Legend in the Church is received wisdom. We consider her to be learned that, once converted to Christian faith, she defeated in debate fifty pagan philosophers working for the Roman emperor. Her defense of the truth of the Gospel and reality of the Church was reasonable enough that opened the door for the philosophers to accept Christianity themselves. Centuries later a famous monastery on Mount Sinai acquired both her relics and her name. Pope John Paul II made a pilgrimage to the Monastery of Saint Catherine on Mount Sinai in Egypt on February 26, 2000.
Saints beget saints. After the year 1000, devotion to Catherine  was widely accepted in the West.  It is said that Catherine was both honored as one of the Fourteen Holy Helpers to whom the faithful asked to intercede for them before the Throne of Grace; and in the 15th century Catherine was one of the saints who appeared to Saint Joan of Arc, giving her God's mission. It is a similar mission we receive when we are Baptized, it was the mission of Daniel and his friends seeking to be faithful in a foreign land, the mission of the poor widow and her little coins, the mission to witness to Jesus Christ as Catherine did with the philosophers.