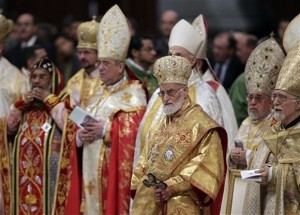 As the Roman Pontiff, Bishop of Rome, the Pope meets with the Fathers of the Churches who are in communion with him to be updated on the life of particular churches. The Patriarchs and Major Archbishops from the Eastern Churches are in Rome this week for a plenary meeting of the Congregation for Eastern Churches.
Who are these bishops? The current (2013) patriarchs and major archbishops are:
Patriarch Gregory of the Melkites
Patriarch Bechara of the Maronites
Patriarch Ignatius of Syrians
Patriarch Louis of the Chaldeans
Patriarch Nerses of the Armenians
Patriarch Ibrahim of the Copts
Major Archbishop Sviatoslav of the Ukrainians
Major Archbishop Lucian of the Romanians
Major Archbishop George of the Syro-Malabars
Major Archbishop Baselios of the Syro-Malankars
Archbishop Fouad, Latin Patriarch of Jerusalem
This year's meeting centered around the theme of religious liberty, an issue that is at crisis proportions around the world, even in the Western nations.
From Vatican Radio, "Citing the words of his predecessor, Pope emeritus Benedict XVI in the post-Synodal exhortation, Ecclesia in medio oriente (nn. 39-40), Pope Francis said, "[You are] watchful guardians of communion and servants of Ecclesial unity," adding, "that union, which you are called to realize in your Churches, finds natural and full expression in the 'indefectible union with the Bishop of Rome'." Pope Francis went on to say, "In order that our witness be credible, we are called ever to seek justice, mercy, faith, charity, patience and meekness."
As you know, the current Pope and the previous one has had a deep appreciation for the patrimony of Eastern Christianity. They are brothers.
The Vatican Radio report can be heard here.
Rome Reports has filed a report here.