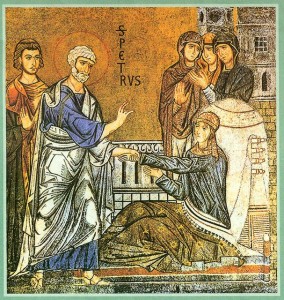 The Martyrology notes that today the Church venerates liturgically the memory of Saint Tabitha the Widow, who was raised from the dead by the Saint Peter. Most associate the name Tabitha with the TV character on "Bewitched." However, let's not just relate a biblical figure with TV fiction. The sacred Scriptures reveal in Acts 9:36 that the dead Tabitha was raised from the dead. Remarkable. Like Lazarus, and others, a follower of the Lord was given life on earth again. She was known to be a virtuous Christian woman belonging to the Christian community situated in Joppa. She was also a widow.
What do we learn from the biblical narrative? "Ask and you shall receive," the Lord to us. Do we actually believe these words?
Hence, on a bended knee, Peter prayed that the Lord would restore Tabitha to life. After prayer, Peter went to the bed and called out, "Tabitha, get up!" She arose, completely healed.
Saint Tabitha is the patron saint of tailors and seamstresses because she was known for sewing coats and other garments (Acts 9:39). Let's live this pericope.