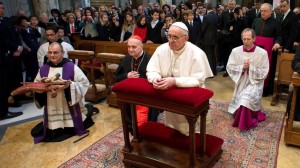 The honest Christian's life tells us that prayer is not the end; rather, Christian's know prayer is a means to an end. The saints teach us this fact.  And what is that end? Jesus Christ! The aim of every serious Christian is not only to be in a relationship with Jesus, but to be shaped into him – to be another Christ. The sacred Scripture reveals this, the sacraments nourish this, daily living demonstrates this. Here are the Holy Father's prayer intentions for October.
The general intention
That those feeling so crushed by life that they wish to end it may sense the nearness of God's love.
The mission intention
That the celebration of World Mission Day may help all Christians realize that we are not only receivers but proclaimers of God's word.