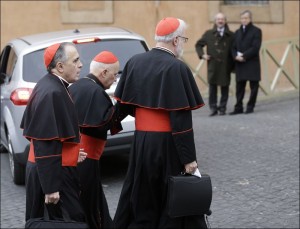 Vatican Radio and the French news agency I-Media broke the news today that the Bishop of Rome, Pope Francis, will create new cardinals in a Consistory to be held February 21 and 22, 2014. No names have been mentioned and there won't be names likely until February.
At the same time, Pope Francis is holding a meeting with all cardinals in Rome to discuss possible reforms.
By February 2014, there will b 14 vacancies of 120 that are noted in Canon Law. By March, there would be 16. The 120 limit is an arbitrary number established by Pope Paul VI.
Possible cardinals to serve in the Roman Curia: Archbishop Pietro Parolin, the new Secretary of State, Archbishop Gerhard Ludwig Müller, the Prefect of the Congregation for the Doctrine of the Faith, and Archbishop Beniamino Stella, the Prefect of the Congregation for the Clergy. There could be more if Pope Francis makes more changes in his curia.
Plus, there are residential archbishops around the world. I would not expect new cardinals in the USA.