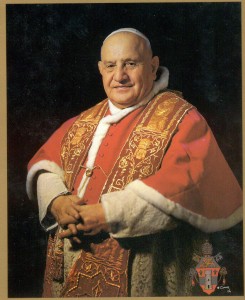 Blessed John XXIII has his liturgical memorial today. He'll be a canonized on 27 April 2014. Good Pope John is well-known for his calling the Second Vatican Council but he's also a pope remained close the Church's tradition.
Hymn texts are a wonderful way of getting at who a person is. J. Michael Thompson wrote this hymn.
1. Come now, you lovers of the feasts!
In tune with heaven's choir,
In honor of our good Pope John
We sing with harp and lyre!
From peasant stock in Bergamo
He heard at first your call,
And left his home and family
To freely give his all.
2. As priest, he healed old enmities
And followed your own path,
Resolving such disputes with love
And took the shepherd's staff.
Sent eastward, in the time of war,
He served the Prince of Peace,
Providing help to those in need
In Turkey and in Greece.
3. When sent by Rome to France, he sought
To heal the scars of war,
He spoke of peace and love to both
Those near and those afar.
Then to the church of Venice called,
He led with shepherd's care,
And in obedience and peace
He preached the gospel there.
4. The Spirit's loving voice was heard
By leaders come to Rome;
Thus he ascended Peter's chair
And took the name of John.
Instead of fierce severity,
With mercy's medicine
He met the needs of present day,
Preached newness from within.
5. As "servant of God's servants," he
Convened a Council's skills
To join the Church to changing world,
With grace to heal life's ills.
When illness brought him near to death,
He offered up his life
That God might bless the Council's work,
With blessings come from strife.
6. To God the Father, God the Son,
And God the Paraclete,
We sing our song of glory now,
A hymn both strong and sweet.
With Good Pope John and heaven's choirs
May we our praises raise
Till we are joined with them at last
For endless length of days!
J. Michael Thompson
Copyright © 2010, World Library Publications
CMD
KINGSFOLD