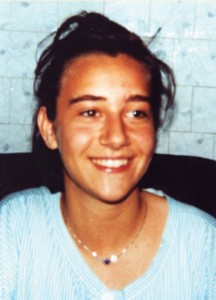 A little known young blessed of our Church, Chiara "Luce" Badano, is gaining popularity. You may remember seeing her name among 18 people revered as saints and blesseds chosen by Pope Benedict as intercessors for the 2013 World Youth Day in Brazil. A commentator said, "she was chosen because Luce is a model of sainthood that is simple, and not someone spectacular."
Known among family and friends as Luce, she died of bone cancer in 1990 at the age of 18.
Luce was a member of the Focolare movement since she 9 years old.
Pope Benedict XVI declared her "Blessed" in 2010 he said "Only Love with a capital L gives true happiness, and that's what Blessed Badano showed her family, her friends and her fellow members of the Focolare movement." When Cardinal Angelo Amato offered Mass at which Chiara was beatified  he spoke of her as having "a crystalline heart, like water from the source."
Blessed Chiara Badano said, "What a free and immense gift life is and how important it is to live every instant in the fullness of God. I feel so little and the road ahead is so arduous that I often feel overwhelmed with pain! But that's the Spouse coming to meet me. Yes, I repeat it: 'If you want it Jesus, so do I.'"
Through the intercession of Blessed Chiara Luce Badano may we live more closely with Christ crucified and may we all, including those who follow Focolare, be blessed.