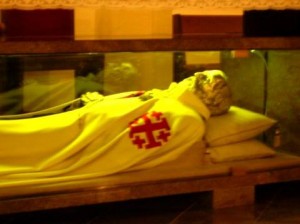 From Satanist Priest to great Marian Blessed. What a headline! But it is a true one. We honor the memory of Bartolo Longo as a beatus of the Church today.
If anything we can say of Longo's life is that we are never to give up hope!!! Keep Praying for him or her whomever it may be…
The tomb of Blessed Bartolo Longo in the Basilica of Our Lady of the Most Holy Rosary in Pompeii which he founded. He leads us back to Our Lady's feast on the 6th and 7th.