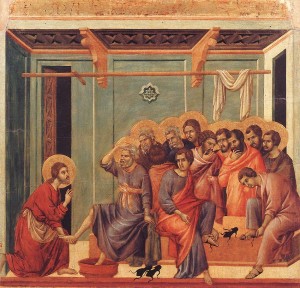 We have a vocation, we are called by the Lord, to be in His service. Some are married and others are consecrated religious, some are single and others are priests, some are professors and others are store managers and machinists and domestic engineers. Some are film makers, others write music. We all have a personal gift (a charism) for God's service and for personal sanctification. Jesus calls all people.
In the first reading we hear today from Paul's letter to the Colossians has this first paragraph:
As you received Christ Jesus the Lord, walk in him, rooted in him and built upon him and established in the faith as you were taught, abounding in thanksgiving. See to it that no one captivate you with an empty, seductive philosophy according to the tradition of men, according to the elemental powers of the world and not according to Christ.
Several weeks ago the readings at Mass spoke of being disciplined, that is, instructed, taught, having a solid formation, as children are (at least that's the hope!), in the ways of Christ and the Good News He proclaimed. And for several days following there were indications in Scripture that having a solid formation, having the needed discipline in Christ would lead you to everything promised by God: the hundredfold, eternal life, peace, happiness, etc. Sadly, too often we dismiss the advice to be disciplined in the Lord.
Too much of what society gives today is competing advice: do your own thing, "do it your own way," what matters is what you think and feel. The exclusive use of secular philosophy will not open the heart and mind to God; Kant, Descartes, Schleiermacher, Mills, Hobbes, Heidegger, and Caputo will not lead to your personal redemption. Therapeutic attitude displaces heavenly teaching. Don't get me wrong, therapy is crucial to better health, but it never replaces God's revelation. Saint Paul and the whole of sacred Scripture doesn't adhere to a secular line of thinking. The Apostle to the Gentiles speaks of testing, verifying and experimenting with what's given by God.
When we verify the Truth we meet God. When we live according to His plan we have happiness. So, the exhortation given in today's first reading: be skeptical about what you hear from secular leaders because their teaching may not lead you to heaven. Test everything, says Paul in another place.
Good, solid, disciplined adult faith formation is crucial to our life in Jesus Christ. Beg for this in your parish community.
I think we have to ask ourselves, Do we, as the Rule of Benedict instructs, prefer nothing to the love of Christ? Do we know that Jesus, the Son of God, wants our happiness? Do we expect everything from Jesus Christ?
The gospel reading from Luke (6:12-13) tells us that Jesus "called his disciples to himself, and from them he chose Twelve, whom he also named Apostles…." Do you know the names of the 12? Are you aware that the 12 are a different category that the category of apostles and disciples? Do we know how to connect the dots between what happens here and the Last Supper, the foundation of the Church, and the proclamation of the Kingdom? Do you see yourself as called by the Lord? What is your particular charism for the good of the Church?
We know that being called, that is, having been given a vocation by the Lord is not insignificant. Not to follow that vocation may very well to rejecting a gift God has given. Consider for a moment how you have, or are in the process of discovering the pathway to love God through your personal gifts? Have you discovered through prayer to God and made an offering of yourself to the people today by the witness of your life, by your preaching and by a substantial mission revealed in contemplation?
Pope Benedict XVI in a Wednesday Audience on 15 March 2006 said,
With their very own existence, the Twelve -called from different backgrounds- become an appeal for all of Israel to convert and allow herself to be gathered into the new covenant, complete and perfect fulfillment of the ancient one. The fact that he entrusted to his Apostles, during the Last Supper and before his Passion, the duty to celebrate his Pasch, demonstrates how Jesus wished to transfer to the entire community, in the person of its heads, the mandate to be a sign and instrument in history of the eschatological gathering begun by him. In a certain sense we can say that the Last Supper itself is the act of foundation of the Church, because he gives himself and thus creates a new community, a community united in communion with himself.