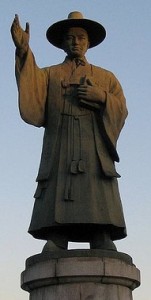 The Church remembers the martyrdom of the Korean martyrs, more than 103 of them. The names of Andrew Kim Taegon and Paul Chong Hasang are the hallmarks for this 19th century Christian witness. I can't fathom the depth of love and hope these martyrs must have had in facing trials.
With the Church we pray,
O God, who have been pleased to increase your adopted children in all the world, and who made the blood of the Martyrs Saint Andrew Tae-gon and his companions a most fruitful seed of Christians, grant that we may be defended by their help and profit always from their example.
My 2011 blog post on today's feast gives more information.
At Mass today at the Monastery of the Glorious Cross (Branford, CT), Father David Borino remembered the intentions of Sister Maria Kim, OSB, a nun of this monastery. In addition, I'd like to remember in prayer the Benedictine monks of Saints Maurus and Placidus Abbey, (Waegwan, Korea), St Paul's Abbey (Newton, NJ), Archbishop Andrew Yeom Soo-jung of Seoul, Nicholas Cardinal Cheong Jin-Suk (archbishop emeritus of Seoul) and the Korean community in Queens, especially my friends Claire and Theresa. May the Divine Majesty richly bless these servants of God.