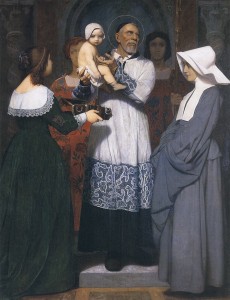 The prayers for the Mass of Saint Vincent de Paul today have us focus on "the relief of the poor and the formation of the clergy" imitating what Vincent loved and  did in following the Savior. The Church's mission is one of service and education. Baptized into the company of saints, all Christians ought to have concern for the least in society; likewise, the baptized are to be concerned for their own education in the faith aiming to be as Saint Paul said, mature Christians. In Vincent's world, education of the faithful came through the formation of healthy and holy clergy. An uneducated, that is, an untrained clergyman can lead others to perdition.
"Charity is the cement which binds communities to God and persons to one another in such a way that whoever contributes to union of hearts in a Company binds it indissolubly to God." (Coste II, Letter 651, p. 413)
Saint Vincent said in his common rules as noted by Vincentian Father José María Román:
Charitable behaviour towards the neighbor should al­ways be characteristic of us. We should try, then: 1) to behave towards others in the way we might reasonably expect to be treated by them; 2) to agree with others, and to accept everything in the Lord; 3) to put up with one another without grumbling; 4) to weep with those who weep; 5) to rejoice with those who rejoice; 6) to yield precedence to one another; 7) to be kind and helpful to one another in all sincerity.
Hence, Vincent stressed three attitudes for his companions in the Congregation of the Mission and the Daughters of Charity, but they are also applicable to us who are not Vincentians, namely: mutual respect, condescension (humility) and bearing with the weaknesses of our neighbors.
Our prayer today ought to note how we engage in concrete works of charity, spiritual and corporal, and how we attend to our education in the faith while supporting those preparing to serve the world as Catholic priests.
The Vincentians need our prayers, so, I'd like to remember the Fathers of the Congregation of the Mission who serve in the Archdiocese of Hartford, especially those at St Stanislaus Church, New Haven, CT.
I'd recommend reading St Vincent de Paul: A Biography by Father José María Román, CM (London, 1999), but the same author has published various aspects of Saint Vincent's life and work online.