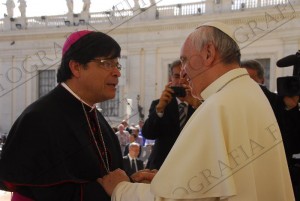 Remember the three words the Pope had for us in the first Mass he offered following his election? They're easy to remember: to walk, to build, to confess. You can change them slightly, but you ought to recall them frequently. Pope Francis does and he reminds the Church –even baby bishops– of these words because they are essential in serving God and His Church. The following are a few paragraphs of an address the Pope gave (19 September 2013) when the greeted the group of new bishops at the conclusion of their meeting in Rome this week. He notes many essential things: humility, austerity, unity, communion, paternity, concrete witness, spousal relationship, etc. This is an amazing text to ponder, to live with vigor. Don't this be a dead letter! Ecclesiology will never be the same.
Francis said in part (the full text is here):
To welcome with magnanimity. May your heart be so large that you are able to welcome all men and women that you meet in the course of your days and that you will go to seek when you begin your journey in your parishes and in every community. Henceforth ask yourselves: how will those who knock on the door of my house find it? If they find it open, through your kindness, your availability, they will experience God's paternity and they will understand that the Church is a good Mother that always welcomes and loves.
To walk with the flock. Welcome all to walk with all. The Bishop is journeying with his flock. This means to go on the way with your faithful and with all those who turn to you, sharing their joys and hopes, difficulties and sufferings, as brothers and friends, but even more as fathers, who are able to listen, to understand, to help, to guide. To walk together calls for love and ours is a service of love, amoris officium, said Saint Augustine (In Io. Ev. Tract.123,5: PL35, 1967).
And in journeying I would like to mention affection for your priests. They are the first neighbors of a Bishop, indispensable collaborators to whom we look for counsel and help, to take care of as fathers, brothers and friends. Among the first tasks you have is the spiritual care of the presbyter, but do not forget the human need of each priest, above all in the more delicate and important moments of his ministry and life. Time spent with priests is never lost time! Receive them when they request it; do not fail to answer a telephone call; be constantly close, in continuous contact with them.
Then presence in the diocese. In the homily of the Chrism Mass of this year, I said that Pastors must have "the scent of sheep." Be Pastors with the scent of sheep, present in the midst of your people as Jesus the Good Shepherd. Your presence is not secondary, it's indispensable. The people themselves ask for it; they want to see their Bishop walk with them, being close to them. They need it to live and to breathe! Don't close yourselves! Descend in the midst of your faithful, also in the fringes of your dioceses and in all those "existential fringes" where there is suffering, loneliness, human degradation. Pastoral presence means to journey with the People of God: in front, pointing out the way; in their midst, einforcing them in unity; behind, so that no one will remain behind but, above all, to follow the scent that the People of God have to find new ways. A Bishop who lives in the midst of his faithful has his ears open to hear "what the Spirit says to the Churches" (Revelation  2:7) and the "voice of the sheep," also through those diocesan organizations that have the task of advising the Bishop, promoting a loyal and constructive dialogue. This pastoral presence will also enable you to know in depth the culture, the usages, the customs of the territory, the richness of sanctity that is present there. To be immersed in one's flock.
Fo me, these words are some of central points of our teaching: "the Bishop is a man of communion and unity, the 'visible principle and foundation of unity' (Lumen gentium, 27)."