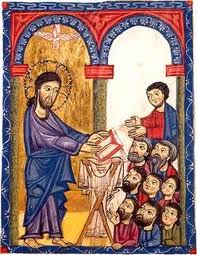 Just in case you're looking for something to read this summer (what's left of it) …
Francesca Ambrogetti and Sergio Rubin, Pope Francis: His Life in His Own Words
Father Robert Barron The Strangest Way: Walking the Christian Path
Pope Benedict XVI, What It Means to Be A Christian
Father Peter John Cameron, O.P., Praying with Saint Mark's Gospel: Daily Reflections on the Gospel of St. Mark
Mary Eberstadt, Adam and Eve After the Pill: Paradoxes of the Sexual Revolution (Ignatius Press, 2013).
Father Michael Gaitley, MIC, The 'One Thing' Is Three
Father Reginald Garrigou-Lagrange, The Three Conversions in the Christian Life
Father John Hugo, Weapons of the Spirit (Dorothy Day retreat master)
Ralph Martin, The Fulfillment of All Desire
Barnabas Senecal, OSB, Beauty in Faces & Places (NP, 2012).
Girgis Shrif, Ryan T. Anderson, and Robert P. George, What is Marriage?: Man and Woman: A Defense (Encounter Books 2012).