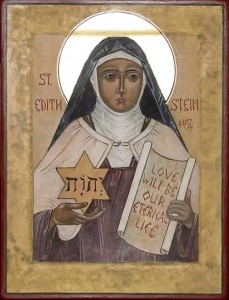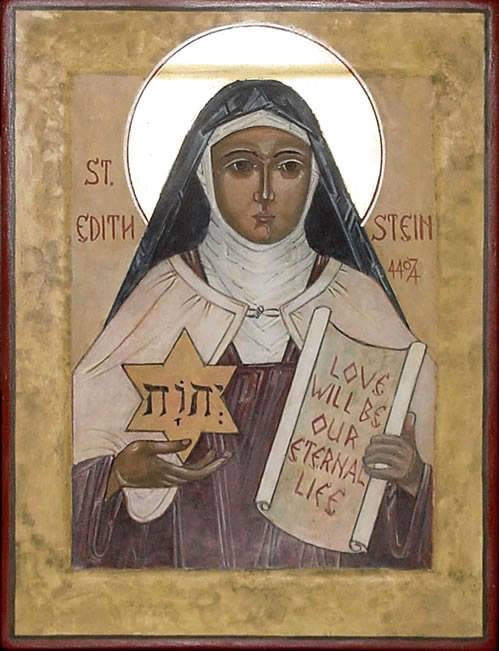 The Church's sacred Liturgy recalls for us an important 20th century woman, scholar and convert, Saint Teresa Benedicta of the Cross. She is known in history as Edith Stein who became a professed member of the Discalced Carmelite Order.
Stein made a significant impact on many people because of her extraordinary witness to Jesus Christ and His Church. This is especially true for Blessed John Paul II who himself is said to have had a "Carmelite soul," so much so one wonders if he really did have a vocation to the Carmelite charism. When John Paul beatified Stein he said,
"We bow down before the testimony of the life and death of Edith Stein, an outstanding daughter of Israel and at the same time a daughter of the Carmelite Order, Sister Teresa Benedicta of the Cross, a personality who united within her rich life a dramatic synthesis of our century. It was the synthesis of a history full of deep wounds that are still hurting … and also the synthesis of the full truth about man. All this came together in a single heart that remained restless and unfulfilled until it finally found rest in God" (1 May 1987, Cologne).
It is well known that her intellectual mentor was the renown philosopher Edmund Husserl whose view of reality and our perception of it turns on end the Kantian method. Stein later became a collaborator with Husserl in his phenomenology. Moreover, data tells us that Husserl's phenomenology led many Christianity. At the same time Stein met the philosopher Max Scheler who suggested that she look into the claims of Catholicism. She read Saint Teresa of Avila's autobiography and the rest is history.
Edith Stein's life and acceptance of the beauty, goodness, and truth of the Christian faith was a liturgical procession: born during the Feast of Tabernacles, baptized on feast of the Circumcision of the Lord; confirmed on the feast of the Purification of Mary and later entered Carmel during Jewish feasts of purification and the Church's approach to the feast of Christ the King and then Advent of 1934. At her final profession of vows on 21 April 1938, Eastertide, Sister Teresa Benedicta wrote the words of Saint John of the Cross: "Henceforth my only vocation is to love." Her final work was to be devoted to this author. Hers was a liturgy that gave voice to a new epiphany of being a woman of two covenants, that of Abraham and Jesus. One leads to the other. She said,  "I had given up practicing my Jewish religion when I was a 14-year-old girl and did not begin to feel Jewish again until I had returned to God."
Before her desire to enter the Carmelite monastery was realized –she needed time to better comprehend the grace of conversion– Stein was following the indications of  Benedictine Archabbot Raphael Walzer of Beuron Abbey who wanted her to speak widely on issues pertaining to women. She said of her time, "During the time immediately before and quite some time after my conversion I … thought that leading a religious life meant giving up all earthly things and having one's mind fixed on divine things only. Gradually, however, I learnt that other things are expected of us in this world… I even believe that the deeper someone is drawn to God, the more he has to 'get beyond himself' in this sense, that is, go into the world and carry divine life into it."
The rest you know. The Nazi regime hated Jews, including intelligent Jewish convert Catholic women. Sister Teresa was vigorously pursued, as well as many others ,and she tragically died. She was canonized on 11 October 1998.
John Paul named Saint Teresa Benedicta a Co-Patroness of Europe, who, "Even after she found the truth in the peace of the contemplative life, she was to live to the full the mystery of the Cross" (Apostolic Letter Spes Aedificandi).