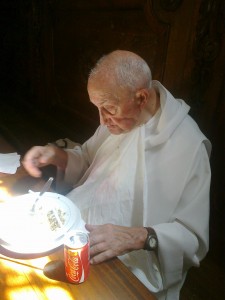 Father Bernardo Francesco Gianni, a Benedictine monk of the Olivetan Benedictine tradition posted this image of one the monks with whom he lives, Don Nicola. This witness of Christ and the Benedictine charism is 92 years old celebrating 75 years of monastic profession. He's enjoying pranzo with a Coke.
Our Lady, Queen of monks, pray for more vocations.
Saint Benedict and Saint Scholastica, pray us.
Saint Bernard Tolomei, pray for Don Nicola.
May God bless Don Nicola today, and in the years to come.