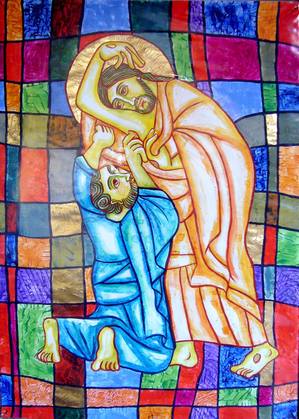 Was Saint Thomas really doubting, skeptical, or trying understand a new reality he met in the risen Lord?  The so-called skepticism is seen as weakness but in the Christian way of looking at life, weakness is power. Doubt is really clarification. Thomas, is really an apostle of the Lord's glorification as John's Gospel indicates for us. I can also see Thomas as the apostle who loves the Lord with passion, with ardor, as when he tells the disciples to go with the Lord to the cross when witnessing to the death of Lazarus. Thomas is also the apostle of Christology. He asks, "Lord, we don't know where you are going, how can we know the way?" Jesus sets gives one of his clearest teachings of who He is: "I am the way, the truth and the life." But somewhere along the path charted by Jesus Thomas doesn't immediately accept what others have to say about the resurrection from the dead of Jesus but has to personally probe the fact.
Eusebius of Caesarea writes that Thomas evangelized the peoples of Persia; there is also the claim that he evangelized western India, founding what is known today as the Malabar Church, and later martyred there.
Like Thomas, Didymus, we've met the Lord in his glorious wounds and sometimes we miss what those wounds mean. Thomas is here to help us. Pope Francis tells us,
"We find Jesus' wounds in carrying out works of mercy, giving to our body – the body – the soul too, but – I stress – the body of your wounded brother, because he is hungry, because he is thirsty, because he is naked because it is humiliated, because he is a slave, because he's in jail because he is in the hospital. Those are the wounds of Jesus today. And Jesus asks us to take a leap of faith, towards Him, but through these His wounds. 'Oh, great! Let's set up a foundation to help everyone and do so many good things to help '. That's important, but if we remain on this level, we will only be philanthropic. We need to touch the wounds of Jesus, we must caress the wounds of Jesus, we need to bind the wounds of Jesus with tenderness, we have to kiss the wounds of Jesus, and this literally. Just think of what happened to St. Francis, when he embraced the leper? The same thing that happened to Thomas: his life changed.