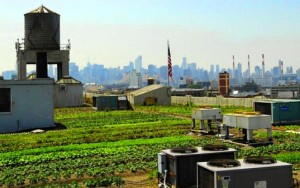 Interest in growing fresh vegetables and farming is real life these days in many urban settings.There is significant concern for wellness issues like where is our food coming from and how is it raised. The impact of bad practices and careless behavior is taking a toll on people in a multiplicity of ways: poverty, hunger, cancer, mental illness, human sustainability, and the like.
City farming is the subject of this video report by Monocle. It provides some very interesting things to think about like, space, soil, nutrients, people, being co-creators, etc. The three reports given in the Monocle video look at innovative work in Japan, NYC and Norway. Watch the report. In the New Haven area there are some community gardens sprouting up, for example, Yale University has a community garden the Yale Farm (Edwards Street) and then there are lots of modest initiatives. Plus, the growing of farmers' markets.
I have a modest garden with edibles and decoratives. But I can't sustain a family on what I grow. I have learned to make pickles from homegrown cucumbers, and I will can tomatoes, but if I had other favorable factors I could do more. My grandparents would be proud since that's how they managed to live.  What I have concluded is that life is much better with homegrown produce than what is purchased in big stores like Walmart and Big Y. Well, that's for the spring and summer. Come the autumn and winter we have to go back to the store.
But this matter is a part of a larger question of faith and ecology. The biblical and sacramental life of the Church have something to say to us today. In my mind, Christians have to reclaim what it means to live well with with what God has given through a sacramental lens. For this reason, I am thinking more and more about the role the Benedictines can play in the development of a faith and ecology project. The Benedictine charism is one in which simplicity, faith, work, study, mutual obedience, concern for the other and co-creation with God are high values. Plus, the monastic life with its emphasis on moderation lived in communion with others is key. I would also include the ecclesial movements of Communion & Liberation and Focolare as key infrastructures of grace and holiness. With a few spare moments here-and-there I am trying to think about a Christian's response to the matter of food, wellness, farming, and the like. People like Ken Myers (Mars Hill Audio Journal), Norman Wirzba (Duke Divinity School), Fred Bahnson (Wake Forest Divinity School) and Wendell Berry (public intellectual) along with Pope Benedict XVI are setting the stage for new things.