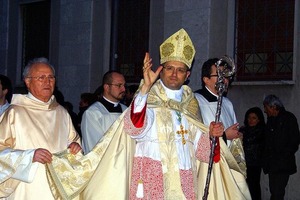 It's finally been decided: Abbot Pietro Vittorelli has resigned the abbacy and his ministry of Ordinary of Cassino. Pope Francis invoked the Code of Canon Law 401.2 regarding matters of health.
Last year I asked readers of Communio to pray for Abbot Pietro here.
He now needs to pay more attention to his health for his own good, that of the monastic community that he intensely loves but also for the diocesan community.
Until the monastic community of Montecassino can be called together to elect a new abbot, the Prior of Sacro Speco at the Abbey of Saint Scholastica (on Subiaco) and the Director of the Library in the City there, Dom Augusto Ricci will serve as the Apostolic Administrator.
Dom Pietro was born on 30 June 1962, professed of vows in 1991, ordained priest in 1994, elected and confirmed in the abbatial office and Diocesan Ordinary of Montecassino in 2007. The great abbey of Montecassino is a territorial abbey. The stats of the diocese in 2004 state that there were 79,000 souls, with 68 priests (secular and religious) serving in 53 parishes.
From the Italian media.
Through the intercession of Blessed Columba Marmion we pray,
O God, Almighty Father, who, having called the blessed abbot Columba to the priesthood and to the monastic way of life, wonderfully opened to him the secrets of the mysteries of Christ, grant, in Thy goodness, that, strengthened by his teachings in the spirit of our adoption as Thy sons, we may pray to Thee with a boundless confidence, and so obtain, through his intercession, the full restoration to health of Dom Pietro Vittorelli, Abbot of Monte Cassino. We ask this grace for the joy of Thy Church, for the consolation of the community of Monte Cassino, and for the praise of Thy glory, through our Lord Jesus Christ, Thy Son, who liveth and reigneth with Thee, in the unity of the Holy Spirit, one God forever and ever. Amen.