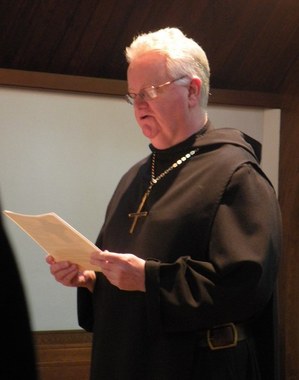 Today, the monastic chapter (the solemnly professed monks) of Glastonbury Abbey (Hingham, MA) met to elect the third abbot of the abbey.
The election of an abbot brings greater normalcy, according to the Rule of Saint Benedict and tradition, to the monastic life after several years of having a prior administrator. Having an administrator was requested by the monks of the Abbey for a transition period.
The 10 monks gathered under the presidency of Abbot Vincent de Paul Bataille, Abbot President of the
Swiss American Congregation
. Abbot Vincent confirmed the election. The monks of the Congregation number about 511 in 18 monasteries and priories in the USA, Central America and Canada.
Benedictine Father Thomas O'Connor, 62, was elected the Third Abbot of the community.
Abbot Thomas' abbatial blessing will be bestowed by Sean Cardinal O'Malley, OFM Cap on 11 August.
Glastonbury Abbey was founded in 1954 from Saint Benedict's Abbey, Benet Lake, WI. It is situated in the Archdiocese of Boston and is located in the historic south shore of Boston.
Father Edward Campbell was elected the first abbot (1973-1986) and Father Nicholas Morcone served as the second abbot (1986-2008).
May God grant Abbot Thomas many years of faithful and fruitful service.
Our Lady of Glastonbury, pray for us.
Saints Benedict and Scholastica, pray for us.
Saint Hildegard, pray for us.