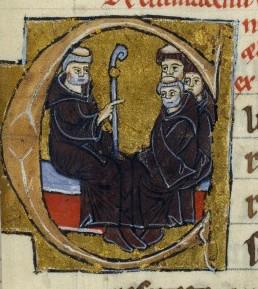 Lord our God, you are the shield and glorious reward of those who walk blamelessly before you. Keep us steadfast in your holy service so that, by the example and intercession of the blessed abbots of Cluny, we may with open hearts run the path of perfect charity.
The Benedictine liturgical calendar honors the holy abbots of Cluny, Saints Odo, Majolo, Odilo, Hugh, and Blessed Peter the Venerable.
Saint Odo, the second abbot of Cluny, born circa 878, and he died on 18 November, 942. He reformed several monasteries in Aquitaine, northern France, and Italy, and was entrusted with some important political missions;
Saint Majolus or Maieul born in 906, and died in 994. Otto II desired to make him pope in 974 but he refused;
Saint Odilo, fifth abbot of Cluny, born around 962 and died on 31 December 1048. The number of monasteries in the Cluniac congregation (mainly by reforming existing monasteries) increased from 37 to 65 under his abbacy; we worked to achieve a truce, that is, 'the peace of God' that restricted warfare; he acted charitably which saved thousands during a time of famine and he is most remembered for introducing the Feast of All Saints into the Roman liturgical calendar;
Saint Hugh the Great was born at Semur (Brionnais in the Diocese of Autun, 1024 and died at Cluny, 28 April, 1109. A friend of Pope Saint Gregory VII Hugh played a key role in the reform of the clergy, and was widely recognized for his sanctity even during his lifetime.