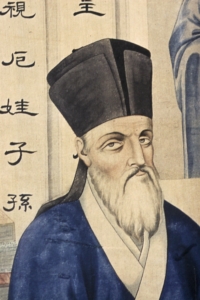 A while ago I mentioned the sainthood study of the 17th century Jesuit Father Matteo Ricci being opened by Diocese of Macerata. The diocesan phase officially closed on May 10th and the findings were sent to the Congregation for Saints at the Holy See.
Father Matteo Ricci
was born in the Diocese of Macerata in 1552 and died in Bejing on May 11, 1610. Initially, the cause was opened in 1984 but closed shortly thereafter. But in 2010 fresh eyes and reasonable interested were opened.
This is a unique event given that a prominent Jesuit cause for sainthood is given to a Jesuit Pope. As Bishop Giuliodori related concerning his visit to the Pope, "I never imagined I'd be able to speak about the cause of Father Matteo Ricci with a Jesuit pope. After the great attention given by Benedict XVI, who never missed an occasion to encourage us to promote the cause, we now have the joy of placing it into the hands of a Jesuit." It was Pope Benedict's interest in this cause that is striking. He said, in part, that with Father Ricci we have a "fortunate synthesis of proclaiming the Gospel and of dialogue with the culture of the people who are receiving it, an example of balance between doctrinal clarity and prudent pastoral action. Besides Ricci's reputed sanctity, he is known for an "innovative method of evangelization based on the inculturation of the faith." His heroic virtues include humility and courage. Others have derided Ricci for being too cozy with Confucian practices that may be incompatible with Christianity. Ricci was a missionary to China to bring the Gospel of Jesus Christ, nothing more. Hence, in Ricci we have a model of evangelization and faith formation that is based on reason: dialogue with the culture, balance, doctrinal clarity and prudent pastoral action.