Doing humanitarian work, two bishops have been kidnapped by rebels Monday evening. Archbishop Paul is the brother Greek Orthodox Patriarch John. Here is the Vatican statement: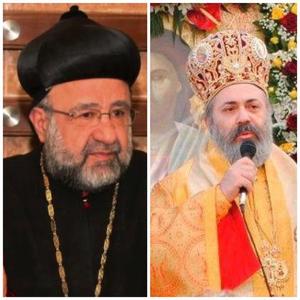 The kidnapping of the two Metropolitan bishops of Aleppo, Mar Gregorios Ibrahim of the Syriac Orthodox Church, and Paul Yazigi of the Greek Orthodox Church of Antioch, and the killing of their driver whilst they were carrying out a humanitarian mission, is a dramatic confirmation of the tragic situation in which the Syrian population and the Christian communities in Syria are living. The Holy Father has been informed of this recent, extremely grave act, which comes on top of the increasing violence of the past days and a humanitarian emergency of enormous proportions. Pope Francis is following the events with deep participation and he is praying for the health and the liberation of the two kidnapped bishops. He is also praying so that, with the support and prayers of all, the Syrian people may finally see tangible responses to the humanitarian drama and real hopes of peace and reconciliation rise on the horizon.
(Source: Vatican Radio)
Here's an interview with Vatican Radio's Linda Bordoni who spoke to Mario Giro, of the Community of St. Egidio about the kidnapping of the Syrian bishops. You may listen to the interview here.