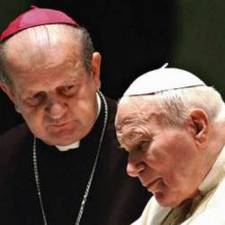 Having died in 2005, beatified on 1 May 2011, John Paul II may well be a saint later in 2013. Some are speculating that he may be canonized in October. A group medical professionals have recognized miracle of healing at Blessed John Paul's intercession as inexplicable.
Now the presumed miracle needs the approval of the theologians and then approval of the cardinals and bishops of the Congregation of Saints before the dossier is presented to Pope Francis' fiat. If all goes well, John Paul would be one of very few fast-tracked saints in the modern era: only eight years after death.
Blessed John Paul's feast day is October 22.
Blessed John Paul served as the Roman Pontiff from 1978-2005.