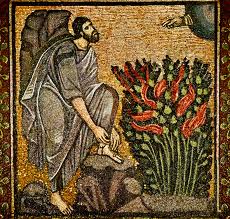 Moses encountered the living God. What was once hidden is now made known. Light and Love is experienced. Biblical revelation teaches that he flame Moses saw was in fact God's uncreated energies/glory. This glory of God was manifested as light, thus a reasonable theological explanation as to why the bush was not consumed. The Church doesn't typically speak of the burning bush as a miracle inasmuch as it speaks of it as an event, a theophany, an epiphany, which lasts but a short time. What is taught by the Church Fathers is that Moses was permitted to see God's uncreated energies/glory. That is, he had encountered the Infinite, a promise of eternal things to come. Moses is for us the note that we are made for the Infinite, that our heart is made for love, that we are to be in communion with the Divine Majesty.
This same light is linked to the experience of the children at Fatima.
Catholic theology speaks of the burning bush as an Old Testament type for Mary, the Theotokos. She, as the Spouse of the Holy Spirit "is the burning bush of the definitive theophany" (CCC 724). The burning bush which Moses experienced is spoken of by the Church Fathers as the type of Jesus, an experience that is "pre-incarnation." That is to say, the bush is the encounter with the presence of the Son in the form of an Angel. Mary, therefore, is the Theotokos, the bearer of the Incarnate Son by the action of the Holy Spirit.
We welcome this Light into our lives through the sacraments of initiation, the frequent reception of the sacraments of Confession and Communion; we welcome this Light in our begging the Holy Spirit to guide our way to God the Father as a new Pentecost in our Christian experience. Our response is nothing other than adoration of God.
As a way to know more about the Holy Spirit and the Divine action in history I would recommend studying the Catechism of the Catholic Church, paragraphs 717-730.