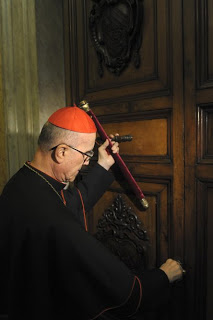 At 8pm Rome time on 28 February 2013, the Chair of Saint Peter went empty. The period of time is called sede vacante, the empty see; that is, the Holy Roman Church has no visible head on earth. There is no pope.
Until the time the cardinal electors gather for the Conclave to elect the next bishop of Rome, the head of the
Apostolic Chamber
, the Carmerllengo (chamberlain), Tarcisio Cardinal Bertone, SDB, will lead a small group of people in closing the papal apartments, and the private elevator.
Prayers were prayed, and tasks identified. Doors were locked and a ribbon with wax seal secured the papal area.
The Camerlengo is the acting head of state and is the Church's administrator of the material holdings of the Church. This office is in distinction to the Dean of the College of Cardinals, Angelo Cardinal Sodano, who cares for the spiritual well-being of the cardinals and chairs the meetings prior to the conclave.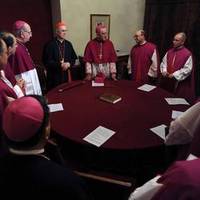 The Vatican embassies also received communication at 8pm saying that any diplomatic necessity ought to be addressed to Archbishop Giovanni Becciu and to the Dean of the College of Cardinals.
Today, at 12:30pm Rome time, Archbishop PierLuigi Celate, the vice-Camerlengo, sealed off the
Basilica of Saint John Lateran
. The basilica is the cathedral for the bishop of Rome.