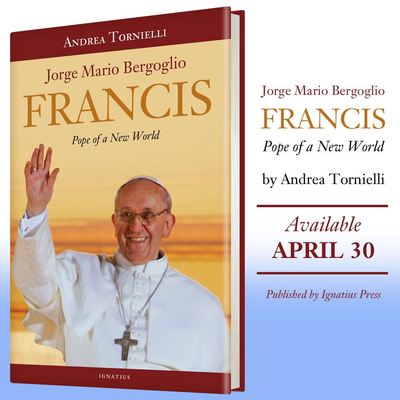 Available for pre-order:
Francis: Pope of a New World by Andrea Tornielli
"Francis, rebuild my Church!" That is how St. Francis of Assisi heard the call of Christ. It is also how Jorge Mario Bergoglio, at the age of 76, and a Jesuit, seems to have accepted his election to the papacy with the choice of a name that no other pope has ever chosen.

Who is Pope Francis, elected in one of the shortest conclaves in history? Who is the man chosen to be the first pope from the Americas and the first Jesuit pope?


Drawing from the words, ideas, and the personal recollection of Pope Francis – including inside material made available right up to the final hours before his election – the most highly regarded Vatican observer, Andrea Tornielli, reveals who the new Pope will be for both a Church and a world in need of transformation.

Francis, Pope of a New World, published by Ignatius Press, is a definitive and complete biography on Pope Francis. It will provide the keys to understanding the man who was a surprise choice, even a revolutionary choice, for pope. It is the story of a humble pastor of one of the world's largest archdioceses; a cardinal, who takes the bus, spends time in the street talking to the community, pays his own bills and makes his own meals, and lives simply. It is the story of why the cardinal electors of the Catholic Church set aside political and diplomatic calculations to elect a pope who will lead the renewal and purification of the worldwide Church of our time.

Pre-order this hardcover book on the Ignatius Press site here: