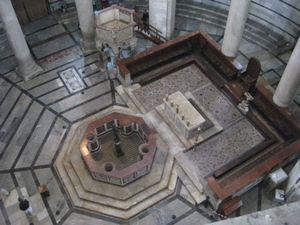 Father Augustine Thompson, OP, delivered the 23rd annual Aquinas Lecture "Baptismal Theology and Practice in the Age of St. Thomas Aquinas"
I highly recommend watching the video presentation.
On Wednesday, February 27, 2013, Fr. Augustine examined and presented research on his discoveries of the liturgical and social significance of baptism in Northern Italian cities of the thirteenth-century. He also discussed developments in the Catholic theology of baptism from the twelfth century to Aquinas in the late thirteenth, including Aquinas' disagreements with other theologians. I found his presentation compelling because he speaks of how Northern Italy preserved the unity of the sacraments of initiation, the role of the bishop in being the prime minister of Christian initiation, the role of city government, the faith community, and many other things like the fast of infants.
A New York native, Fr. Augustine is Professor of History at the Dominican School of Philosophy and Theology, Berkeley, CA. He earned a PhD from UC Berkeley and in 2007 was given the STM from the Order of Friars Preachers. He is the author of the recently published Francis of Assisi: A New Biography, Cities of God: The Religion of the Italian Communes, 1125-1325 and Revival Preachers and Politics: The Great Devotion of 1233; Ad Completorium Liturgiae Horarum secundum Usum Ordinis Fratrum Praedicatorum. Oakland, CA: Provincia Ss. Nominis Jesu Ordinis Praedicatorum, 2010 (Liturgical Music); Cities of God: The Religion of the Italian Communes, 1125-1325. 2005; and edited John Williamson Nevin. The Mystical Presence: A Vindication of the Reformed or Calvinist Theology of the Holy Eucharist, 2000.