According to the Vatican Information Service, quoting the Holy See spokesman, Jesuit Father Frederico Lombardi, in a press conference, made some details public today regarding His Holiness. In sum, he said that Pope Benedict XVI: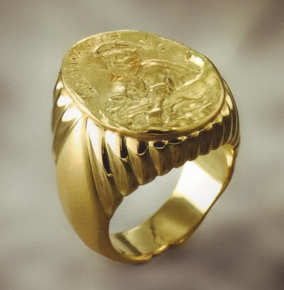 will be referred to as "Pope Emeritus" or "Pontiff Emeritus";

will keep the style "His Holiness, Benedict XVI";

will keep wearing a simple white cassock without the papal mozzetta; and

that the fisherman's ring, and the lead seal, will be broken.
Benedict is scheduled to arrive in Castel Gandolfo on 28 February, at 5:15pm -Rome time. At 8pm, Rome time), when the See of Peter goes vacant, the Swiss Guard will quietly leave the papal summer residence; the Guard's services of protection are limited to the person of the Pontiff; the security of the "Pope Emeritus" will be assured by the Vatican Gendarmerie.
As commentary, some opined that the papal ring could be given to the Vatican Museum but the decision was made to continue to break the break to show the end of this papal reign. Perhaps the broken ring will be given to the Museum if it is not crushed beyond recognition.
It seems to me that in Benedict's case, he ought to be readmitted to the College of Cardinals, be known as His Eminence, Joseph Cardinal Ratzinger, Bishop-emeritus of Rome. Moreover, he ought to adopt the clothes of a cardinal and be given the titular church of Sant'Anselmo or Santa Maria in Trastevere. I'd like him to be given the Benedictine Church of Sant'Anselmo!
In 1936, the King of England, Edward VIII, abdicated, he was first known as HRH Prince Edward, and then, HRH the Duke of Windsor.
Recently, Her Majesty Queen Beatrix of the Netherlands announced that she was abdicating throne on 30 April. Thereafter Beatrix will be known as Her Royal Highness, Princess Beatrix. You can only have on monarch at a time.
Roma locuta, causa finita.