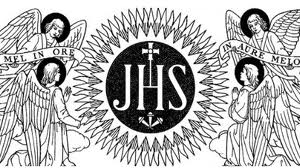 At the name of Jesus, every knee should bend, of those in heaven and on earth and under the earth, and every tongue confess that Jesus Christ is Lord, to the glory of God the Father.
(Phil 2:10-11, entr. ant.)
We honor the Holy Name of Jesus today. In the middle of Christmastide, we take time to recall the saving power of the holy name of Jesus: He who saves, He who is the eternal Word of the Father.
The Church prays,
O God, who founded the salvation of the human race on the Incarnation of your Word, give your peoples the mercy they implore, so that all may know there is no other name to be invoked but the Name of your Only Begotten Son.
You may want to seek out your Bible to discover, or re-discover some passages. Look at the first three Commandments, plus Psalm 99:3, Mark 16:17-18, Luke 1:31, Acts 3:6; 9:34; 9:40, John 16:23, and Philippians 2:9-11.
It seems to me that with all this good teaching as an invitation to my own conversion, I need to watch what I say with regard to the Lord's Name. Instead of using the name of Jesus in a vulgar manner, I ought to have the habit of making the aspiration, "Jesus" slowly and deliberately.
Pray the Litany of the Holy Name today.
In the Pope's teaching on January 2 where he picks up Pilate's question of the origin of Jesus. A question that all of us ought to ask. It is more than an intellectual exercise, it is a matter of truth, it is a matter of our following the One sent by our Creator. If you can't answer this question immediately, keep on reading. Pope Benedict says,
We can answer that "…from the beginning of the Gospels, what Jesus' true origin is: He is the only begotten Son of the Father. He comes from God. We are facing the great and disconcerting  mystery that we celebrate in this time of Christmas: the Son of God, by the power of the Holy Spirit, became man in the womb of the Virgin Mary. This is an announcement that resounds every new and which carries with it hope and joy to our hearts because each time it gives us the certainty that, even if we often feel weak, poor, incapable of facing the difficulties and the evil of the world, the power of God is always acting and works wonders precisely in our weakness. His Grace is our strength."
Saints such as Bernard, Bernardine of Siena, Ignatius of Loyola among others have promoted the devotion to the Holy Name of Jesus. The image of IHS comes from the first 3 letter of Jesus' name written IHESUS.
AND, His name is our glory.