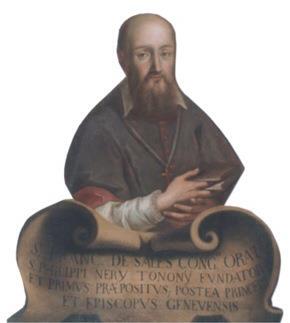 O God, who for the salvation of souls willed that the Bishop Saint Francis de Sales become all things to all, graciously grant that, following his example, we may always display the gentleness of your charity in the service of our neighbor.
We honor the gentle giant, pastor of souls, spiritual father of many, author, and Doctor of the Church,
Francis de Sales
(1567-1622). A brilliant student, he was ordained a priest despite his father's desires. Francis was a provost of an Oratorian community and later bishop of Geneva and founder. His writings and approach to religious inspired many new forms of religious life.
His
Introduction to the Devout Life
, first published in 1609, is well known and cherished, reliable, honest, accessible, humane, and a Christian classic. His doctrine is called celestial in that it points a perfect way
for ordinary people
to enter into communion with God without having to flee the world. You don't have to be a monk of nun to have a spiritual life!
Saint Francis is the patron saint of journalists, writers, and now social communications for the Church.