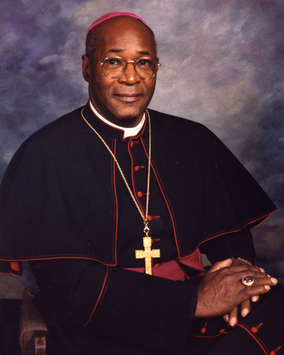 The Most Reverend Moses Bosco Anderson, SSE, 84, died on January 1, 2013, in Detroit.
Bishop Anderson was an auxiliary bishop of the
Archdiocese of Detroit
since 1983. He was nominated to the episcopacy by Blessed John Paul II and ordained a bishop by Cardinal Edmund C. Szoka.
Bishop Anderson was a priest of the
Society of Saint Edmund
, a pastor, lecturer in theology, a vice president of student affairs at the College of Saint Michael (VT), and the holder of several honors and awards including the honor of being "Chief of the Ashanti Tribe (Kumasi, Ghana).
Historically, Anderson was the 7th African American bishop to serve the Church in the USA. He was a priest for 54 years and a bishop for 30.