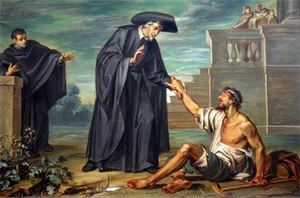 The Cross received the living Jesus and gave Him back to us dead; the Shroud received the dead Jesus and restored Him to us alive. (Blessed Sebastian speaking of the Shroud of Turin)
The Congregation of the Oratory and devoted faithful liturgically recall Blessed Sebastian Valfre, C.O. (1629-1710), a priest of the Oratory.
Unless you are plugged into the life of the Oratorians, such as the fine men at the Brooklyn Oratory, the New Brunswich, NJ Oratory, or the New York Oratory, Blessed Sebastian Valfre (1629-1710) of the Turin Oratory, is not well known. He was beatified by Pope Gregory XVI in 1834.
Father Sebastian Valfre is remembered for a number of things: he produced a popular Catechism and introduced the Quarant'Ore (the 40 Hours devotion to the Eucharist) to Turin; he cared for the poor and needy; he was a  Spiritual Director to the Piedmontese Royal Family (he tutored the young Victor Amadeus II); he had a great love for the Holy Shroud of Turin and was involved in the foundation of Rome's Accademia (where diplomats are trained); the feast of the Sacred Heart was first celebrated in Turin for the first time Father Sebastian in 1694.
When Father Sebastian died and his body was laid out in the church, Turin's citizens wanted to say goodbye to the priest who walked with them through all the joys and difficulties in life for sixty years. Father Sebastian's legacy was the extroversion of the faith preached by Christ for the dignity of all people: the witness of Christian charity knew no boundaries.
Today, the most important aspect we take away from Sebastian Valfre is the example he gave as a man of prayer and contemplation from which he drew his mission for preaching rooted in his education and authentic spiritual formation.