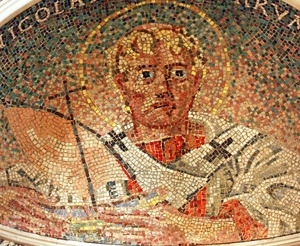 We humbly implore your mercy, Lord: protect us in all dangers through the prayers of the Bishop Saint Nicholas, that the way of salvation may lie open before us.
Today's saint restores the human dignity to his people and brings supernatural light to them, that is, he carries Jesus Christ to others.
Most people today have lost sight of who the real Nicholas is: he moves from being a bishop, one who offers the Divine Liturgy, wonder-worker, and a man of great charity in his teaching truth and helping the poor. We recognize in Saint Nicholas today not a man love and adherence to Christ but someone who represents insipidity. Nicholas is far from the commercial mindset. Hopefully we can target the reality and sweep away silliness.
Two Benedictines who blog give a little more insight into Saint Nicholas: Dom David and Dom Mark Daniel.