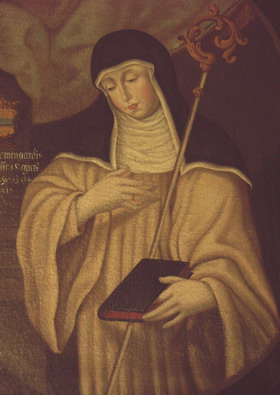 The Church celebrates two Benedictine friends in several days: Saints Mechtilde and Gertrude. By today's standards of canonizations, neither were formally canonized by the Church; until recently Hildegard enjoyed a canonization status only observed in Benedictine communities. Her liturgical observance is recognized more universally today. Pope Benedict XVI spoke eloquently of Saint Mechtilde of Hackeborn at a 2010 Wednesday Office. The Pope gives a superb insight into the person of Saint Mechtilde that is extraordinarily helpful.
Saint Mechtilde (1240-1298), the sister of Gertrude of Hackeborn (not Gertrude the Great [celebrated on Nov. 16], thought there is great confusion about this relation) attended the monastery school where her sister was a nun and after graduation she entered monastic life. Like Gertrude the Great Saint Mechtilde was known as a serious and gifted student and teacher. Someone described her having a "voice of a songbird." Her wonderful personality was an asset for her Benedictine community and it likely led to her being a 40 year abbess. As it turns out, Gertrude the Great was a student of Mechtilde's. Both of whom had a profound love for the Sacred Heart of Jesus
Privacy issues today weren't known in the 13th century. Mechtilde's spiritual experiences were recorded by Gertrude. Though unnerved by the perceived violation of boundaries, the Lord assured her that it was OK. In time Gertrude's work was the basis of Mechtilde's "Book of Special Grace" or later known as "Revelations of Saint Mechtilde," a book that is oriented to the liturgical year and focussed on Christology and Trinitarian theology. The Pope tells us that Mechtilde's starting point is the sacred Liturgy and her mystical experiences relate us back to the liturgical experience through the lens of the biblical narrative. Saint Mechtilde ought to be one of the heavenly patrons of liturgical studies.
In several places you'll read that Dante used Saint Mechtilde for his Donna Matelda of his volume of the Purgatorio, Canto XXVII. Whether is true is not yet known. That Dante's Donna Matelda and Saint Mechtilde are mystics, one wonders if the saint is fictionalized.