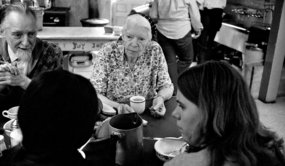 Dorothy Day is not a pawn in political camps. She is the darling of a political camp for either the seculars or the ecclesials. To apply political monikers of liberal and conservative, left or right is grossly inaccurate and a rather reductionistic manner to understand a person and her vocation, the vocation defined by love and happiness. True to an authentic follower of Christ, Dorothy Day's vocation was to be a saint, that is singularly focussed on her Lord and Savior; her vocation was to adore and follow Jesus Christ. Day's vocation was not to feed the the poor and argue for a change in governmental policy. As a friend said, Day's life is too easily "framed in political terms by people who anachronistically use words like 'liberal' and 'conservative' to describe a life that was never about that fight." Additionally, I fully agree with Martha Hennessy, 57, the granddaughter of Day who said she was uncomfortable about her grandmother's abortion. Let's pay attention to Martha Hennessy, "I wish we would focus on the birth of her child more than on her abortion because that's what really played a role in her conversion." Indeed. This is the pro-life position of the Church.
I significantly dislike the way Day's life is used to diminish a true practice of faith, of religion. 
The NY Times
 published Sharon Otterman's article, "
In Hero of the Catholic Left, a Conservative Cardinal Sees a Saint
," and it's typically misguided with tired cliches and wrong information (her facts are often wrong) yet useful in a limited way because Dorothy Day saintliness shines. Obviously Otterman wanted a story and not the truth.