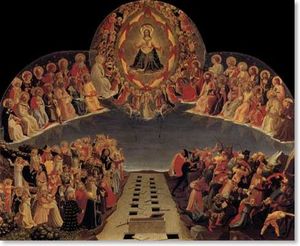 Today is the liturgical observance of Benedictine All Saints. Let's pray for all those monks, nuns, sisters and oblates who lived a life of holiness and perseverance in the monastic life.
Not to be a "Debby-downer" BUT, it is not likely that many Benedictine monasteries in the USA will observe today as a feast of all holy monks and nuns. Sadly, many of the monastic superiors have given-in to painting life in their in the monastery with the color beige: there's no vitality of tradition.
Historically, according to a note in an Office book, "Up to the end of the sixteenth century, there was no general feast of this name for the whole Order, since the "Order of St. Benedict", in the modern sense, was unknown. In individual monasteries, as Monte Cassino, Cluny, Fontenelle, etc., a feast of all the saints proper to the monastery was observed, on different dates; only by the revision of the monastic Breviary by Paul V, in 1612, a general feast of All Holy Monks of the Order was instituted, on the above date."
Let us pray,
Grant, we beseech Thee, O Lord, that the example of the holy Monks [and Nuns} may stir us to a better life: that so we may imitate the actions of those whose solemnity we celebrate.